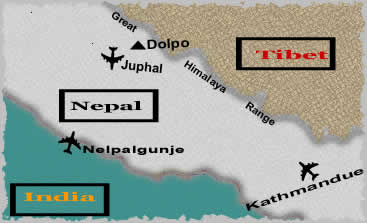 Dolpo is an area in the northeast of Nepal. It is believed that over a thousand years ago, soldiers came from central Tibet to guard the border and resettled in the region. Still today, Tibet is the easiest route for access to Dolpo.
There are over 5,000 inhabitants in the region, following a purely Tibetan way of life. They grow barley and their main diet is Tsampa (roasted barley flour). They also keep domestic animals, such as yaks, horses, zos and asses. Historically, the men of Dolpo were salt traders. They used to travel across the great Himalayas with their yaks, horses and zos to bring salt from Tibet.
Since the Chinese occupation of Tibet, Dolpo has become one of the Tibeto-Nepalese regions (just as the Tibetans in Tibet are now considered to be Tibeto-Chinese). Nowadays, many people don't regard Dolpo as Tibetan; in reality, the people of Dolpo are culturally, religiously and historically no different from Tibetans in Tibet and they have preserved an undiluted Tibetan culture right up to the present day.

In the Nepalese constitution, the whole region of Dolpo is known as Dolpo. There are five districts under the administration of the Karnali Zonal Ministry. These are Dolpo, Humla, Jumla, Kalikot and Mugu. The population of Dolpo district is 27,304 and the average altitude is 13,000ft (4,000 mt)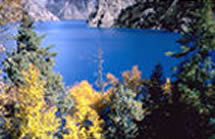 The remote area of Dolpo is one of the few places where the people still live according to the last remnants of traditional Tibetan culture. The region is best known for its surrounding high mountains, including the sacred Shel-Re-Drugda (the Crystal Mountain), Dhaulagiri and Phoksumdo (the largest Nepalese national park) and Phoksumdo lake. Many Tibetans make a pilgrimage of the Crystal Mountain and read the story of Senge Rinchen and his monks in Dolpo and see photographes of the regional people.
There is no road for vehicles to get to Dolpo district. Generally, people fly from Nepalgunj or from Kathmandu (the capital of Nepal) to Juphal airstrip. Then, they must travel on foot or ride on animals. The main forms of transport in the region are yaks, horses, zos and asses.
We highly recommend those of you interested in trekking in Nepal to go to the Dolpo region and visit the sacred Dolpo Shel-Re-Drugda. Going there will surely satisfy your trekking needs and you can learn a lot about the regional people's culture, religion and living conditions.