Kailashzone Monks
Kailashzone does every possible way to help to educate young boys and girls in normal schools and monastic schools in India and Nepal. Currently, we have seventy monks and a nuns from Kailsh regions who are studying in various institute in India.
Senge Tenzin Rinpoche and Kailashzone supports the monks to have money to pay for their personal expenses and buys small gifts, especially for the little monks. Tashi Kailash is the most responsible person within Kailashzone members. He gives guidance to the monks on their monks' Buddhists studies and organize their needs.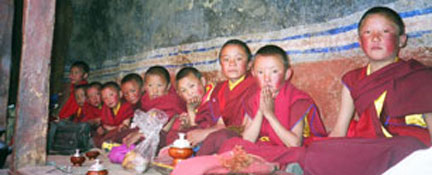 In 2004, three of the above young monks from Zang village of Limi were brought to India to study at the Central Institute of Drikung Kagyu Order. Now, Konchok Jorphel, Konchok Yeshi, and Konchok Palden are studying both Buddhists teachings and modern education including English, math, and sciences.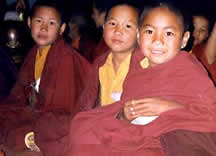 In 2000, Tenzin Phuntsok and his two friends were brought from Dolpo in north-eastern Nepal. In fact, their parents offered them to be monks of Senge Tenzin Rinpoche. Since Senge has been responsible for the boys, he got the monks admittion at the Drikung Kagyu Institute, in Dehra Dun, north-eastern India. Now, the number monks from Dolpo has increased up to eight.
In 1993, Konchok Dhondub and two other young monks were brought from Humla, north-eastern Nepal by His Holiness the Drikung Kyabgon Chetsang. There are now ten monks from Humla.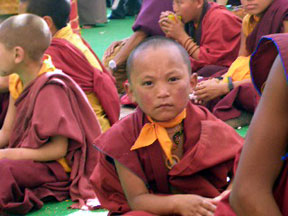 In 1990, Yeshi Dorjee was one of the first monks to be brought by his father from Limi to India. Now, there are fifteen young monks from Limi who are studying in India. The picture shows the youngest Kailashzone monks. He came from Limi to India in 2004 - Konchok Rabten was only 9 years old.
Sponsorship
We have started a project to find sponsorship, as the monasteries, where the monks are studying, are entirely dependent on donations. For the monks, the monasteries, including Janchub Ling Monastery, are like boarding schools. The monks have educational, personal, travel and medical expenses of their own.
By donating $300 you can support a monk for a year. Sponsoring a monk is an important way to help him to be able to continue his studies.
If you would like to receive more information about the monks. Please click here to send an e-mail and get our post addresses.