Khorchag Monastery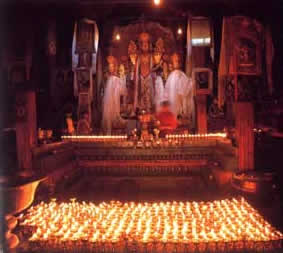 The historical monastery of Khorchag was builted by the first king of Guge Kingdom in 10th century. History of Guge Kingdom says, "Tashi Gon had two son named Song-Nyi and Kori. Song-Nyi was crowned to be the king of Guge Kingdom.
Kori, the second son, had a son, Lhade. Eventually, Kori chosed to became a monk and was a disciple of Lama Zamling Dak. His teacher lived at Kardum village, in Purang. Kori and his son enjoyed the opportunity to study Buddhism and built a golden Temple at Kardum and two houses called the Upper Fortress and Lower Fortress.
For the interior contain of the Temple, the king was offered seven loads of silvers by seven strong saints. So, an statue of Jo-O Jampal Dorjee (Buddhisattva Manjushiri) was made at a place known as Shegar Chang-Ling. Professional metal smiths were gathered including a Nepalese man called Shada Ma and a muslim smith called Bangkula.
At the completion work, the statue was on his way to Kardum. At Korcheg village, the statues stopped to move by any foce near a A-Mo-Le-Ka stone, and said, "I am stuck and I should stay here".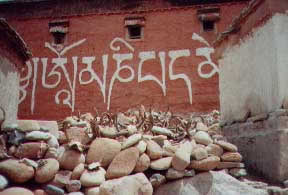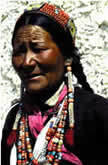 The Kori and his son, Lhade, built the most magnificent temple called Yed Shen Lhundup with an interior gate and an exterior gate. The Statue of Avalokitesvara was placed on the A-Mo-Le-Ka stone, which was beautifully decorated and was known to be very precious stone.
Then, Lochen Rinchen Sangpo, another wellknown Buddhist teacher, built a hall called Lha-Kang-Ka-Gya-Ma (temple of hundred pillars) and started first monastic community at Korchen.
In 13th century, a descend of Lhade, Tegtse Kribar had two sons called Tashi Dondup De and Nam Gon De. Nam Gon De and his mother Za Bum Gyalmo sponsored to build a statute of Pegpa Chenrezigi (Avalokitesvara) and a Chagna Dorjee (Vatrapani). The two new statues were placed right on the right side and on the left side of the , Manjushiri.
The renowned statue of Khorchag Jo-O is one of the three statues of its kinds, in Tibet. One of them is in the Jokang temple, in Lhasa, the capital of Tibet and the other is used to be in Kyi-rong, in Tibet, now it is at the palace of His Holiness the Dalai Lama, in India..
On 15th of First Tibetan month, Khorchag monastery organize an annual festival called Khorchag Namtong. The important occasion gathers thousands of people. The monks of the monastery present Lama Dances and the villagers perform traditional local dances and sing songs.