Holy Tour to Mount Kailash and Ngari Region
There are three common ways to get to Mount Kailash and Ngari, western Tibet
Many tourist travel from Kathmandu to Dam, the main gate between Tibet and Nepal. From Dam, either go to Lhasa, capital city of Tibet, or travel directly to mount Kailash. To get to Lhasa, it is possible to go by air. Road is the most used travel method whole country Tibet.

Some tourist chose to take flight from Kathmandu, or Nepalganj to Smikot, an airstripe in northwestern Nepal. Then, trek toward western Tibet for four or five days to ge to the border between western Tibet and northwestern Nepal.

Tourists go to the mainland China and travel throughout Tibet from eastern Tibet and western Tibet to reach to the sacred Mount Kailash. Til Lhasa, air serve is available from the main cities like Changu.
Visa and Permit:
No tourist travel without visa. Many travellers get in trouble with permits. It is your responsibility to find out whether you need a permit or not to travel the place where you are intending to go.
The best way to find out your requirements is by contacting a travel agency. Contact the following travel agencies and ask them what you need to do.
Nepal Travel Agencies:

Karnali Excursions (p)Ltd
web: www.trekkinginnepal.com
Email:
Tibet Travel Experts:
Email:
Web: www.tibet-tour.com
Web: www.travelchinaguide.com
The World-Wide Web Virtual Library
Web: www.ciolek.com/WWWVLPages/TibPages/Travel/travel-faq.html
News China
web: www.einnews.com/china
Web:http://chinanews.bfn.org/index.html#Tibet
Health

High altitude sickness is most common problem. You need to prepared it and bring your own medication. Also, it is recommend to have something to protect from sunburn. It is good to have your own First Aid Kit. Lost appetite makes travellers vulnerable, it is wise to travel with some medicine and high nutrition foods.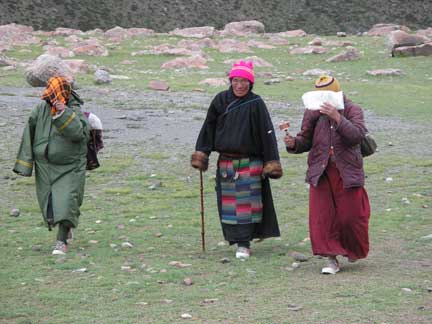 Many Tibetans don't like to be taken photographs. Some thinks that photographing shorten their life-spend. Therefore, you are advised to ask before you shoot somebody.
You know, Tibetans have no idea what western culture are like. Also, you don't know much about real Tibetan culture. Therefore, there are a great risk that you can cause offence against local Tibetans by doing something is normal in your culture. So, pay attendion what you wear and how to keep your relationship with your partners, boyfriend & girlfriend. Short-trousers, mini-skirts, and kissing & hugging in public can be really offensive to local people.
Tourist Impact
Many tourists show no interested in knowing what a $ 1 U.S. worth in another country. Because lack of this knowledge cause so many problems between local people and tourists.

$ 8 to $ 12 U.S. worth a simple lunch for an American or European. it can be earned between an hour and less than an hour. The same amount of money is a day wage for most hard working Tibetans in Tibet. Unemployment rate in Tibet is 78% percent in Tibet.
What do you think the scale tourist impact could there be? Many tourists only think what things and serves are worth in their country. Because this calculation, many Tibetans have learned to ask so much extra money and they get it. Tourist need to know how to buy products and services at the prices in Tibet, not prices outsite Tibet. Only tourist who have knowledge of local money value can do a fair deal. Obviously, no third Tibetans want to see when some Tibetans cheating and robbing tourists because tourists don't know how much worth for a product or service in Tibet.