The Monasteries and Sacred Sites around the Holy Lake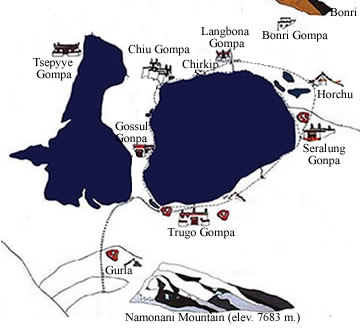 Manasarovar Lake is on the right and Rakshastal Lake on the left. Nowadays, vehicles can drive round the holy lake though most pilgrims prefer to walk as it is one of the most important parts of the pilgrimage. The road has caused disagreement between the current government and those who are concerned about the lake's spiritual significance.
According to Tibetan Buddhism, there are "Four Purification Gates" (Khrus Go) at the lake: the eastern gate is where pilgrims eat a small pinch of Five-Coloured Crystal Sand (Jema Nanga); at the southern gate pilgrims collect a type of plant which is burned as incense (Pho Nanga); the western gate is where the white soil is found which is used as a flavouring in tea (Bul Nanga); at the northern gate pilgrims search for small stones on which are found natural images of Buddhas and Tibetan writing. These four things are sought after as purification for negative deeds and as a blessing from the holy lake. Pilgrims take them, with water and dried fish from the lake, to their family and friends as a blessing.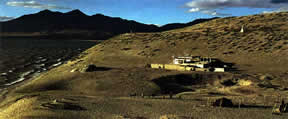 Seralung is the eastern monastery. It was founded by Dordzin Konchok Gyudzin, the Dordzin of Mount Kailash and a disciple of Konchok Trinley Zangpo, who was then throne-holder of the Drikung lineage. Konchok Trinley Zangpo instructed his disciple to establish this monastery on the eastern shore of Lake Manasarovar.
After its founding, Seralung Monastery was headed by successive rebirths of Serlung Tulku. It was destroyed in the Chinese invasion, but rebuilt in 1981 by Khenpo Konchok Chopel Rinpoche, who lives there today with a group of monks.
Nyego Monastery is the south-eastern monastery. When Atisha visited Lake Manasarovar on pilgrimage and walked round the lake, he stayed at this spot for a few days, finding it very pleasant. Atisha made some tsa tsas (little clay statues produced with a mould) and then erected a building to house them.
Later the Sakya Lama, Nyorchen Kunga Lhundrup, extended the little house into a full-sized monastery. Because of its beginnings as a resting place for Atisha, the monastery was named "Pleasant Start." Destroyed during the Chinese invasion, Nyego Monastery has not yet been rebuilt.
Trugo Monastery is on the southern shore of Lake Manasarovar. This monastery was also destroyed in the Chinese invasion, but was partially rebuilt in 1985. Trugo Monastery is now the largest monastic community, due to the hard work of Lama Lobsang Samten (known locally as Lama Chungma). He has also begun several projects to support the local economy, including the production of mineral water, souvenirs and so on. Trugo monastery offers accommodation and catering and is a pleasant place to stay on the shore of the holy lake.
Gossul Monastery is the south-western monastery. When Atisha visited Mount Kailash and Lake Manasarovar, he spent a week on this spot. Gyalwa Gotsangpa later undertook a three month retreat on the site and then founded Gossul Monastery there. Because this monastery was the first branch of the Drukpa Kagyu lineage in Western Tibet, it was named "Gossul" or "Start."
In the middle of the 19th century, the Gelugpa Lama, Gelong Jinpa Norbu, came to Gossul Monastery and greatly increased its size. At this time the monastery's affiliation shifted from Drukpa Kagyu to Gelug. Gossul Monastery was destroyed during the Chinese invasion in the last century and has now been partially rebuilt.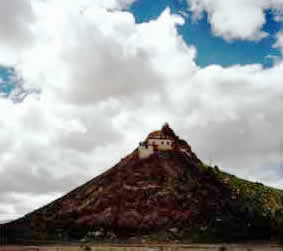 Chiu Monastery lies on the western shore, built on a boulder which resembles Zangdokpalri, the palace of Guru Rinpoche. When Guru Rinpoche brought Buddhism to Tibet, he remained in the country for 54 years. When he left in 876 AD, he stopped at a cave to the west of Lake Manasarovar and stayed there for a week. Chiu Monastery grew up around this cave.
At Chiu Monastery you can still see a footprint which Guru Rinpoche left in his cave and a statue of Guru Rinpoche, called Guru Nadrama. This statue is believed to have been made by Guru Rinpoche himself, and is said to resemble him closely.
Chiu Monastery belongs to the Drukpa Kagyu tradition. It was destroyed during the time of the Chinese invasion but a small monastery has been rebuilt which still houses its precious statues.
Chirkip Monastery is in the north-west. In the sutras, the Buddha described a miraculous trip he took with 500 arhat disciples to Chirkip, a place north of Bodh Gaya. There, on a cliff overlooking Lake Manasarovar, he found many caves in which he and his disciples undertook retreats.
Later Chena Drikung Lingpa went with 500 other practitioners for a long retreat on the same spot. Thus, Chirkip and its caves became a Drikung Kagyu retreat center. Today there is not a formal monastery, but there are a few monks staying in retreat in Chirkip's caves.
Langbona Monastery is the northern monastery. It was founded by the Drukpa Kagyu master, Druptob Nyemowa Samten Puntsok, who found a ridge shaped like an elephant's trunk on the northern shore of Lake Manasarovar and spent many years in retreat there. The monastery that grew up around him was therefore called "Elephant's Trunk." After his death, Druptob Nyemowa Samten Puntsok's reincarnation line was traditionally linked to Langbona Monastery, which was rebuilt in 1986.
Bonri Monastery lies at the north-eastern point. It was founded by Gugewa Khedrup Lozang Norbu who had studied at Sera Monastery in Lhasa. From its inception, therefore, it belonged to the Gelug tradition. Bonri Monastery's name means "Bon Mountain.", so-called because it sits on a mountain which is holy to the Bon religion. Destroyed in the Chinese invasion, Bonri Monastery has not been rebuilt.